Graco E-20
The spray foam insulation machine, Reactor E-20 proportioner ,provides total control for spraying foam insulation. Advanced features provide longer equipment life, more uptime for your spray day, and the overall Graco reliability and durability you've come to expect.
Graco E-30
The spray foam insulation machine, Reactor 2 E-30 electric spray foam machine provides next-gen technology for spray foam insulation. Each feature on the E-30 was strategically designed for your business, including software and hardware enhancements for better spray performance, remote access to controls and unmatched jobsite data.
Gusmer GH-2
The spray foam insulation machine, The Gusmer GH-2 hydraulic proportioner: a simple, durable machine offering impressive performance at an attractive price.
Nitrosys
The spray foam insulation machine , Nitrosys, is a great portable system that can be used in residential and commercial work. Ideal for solutions that require something portable or compact.
Need helping finding spray foam insulation machines and other equipment?
Browse by application below to learn more about the equipment and products that are right for you.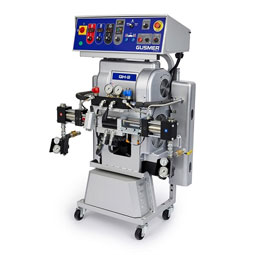 Spray Foam Insulation Machine News
Find all your latest news and innovations in your industry here!
Still Have Questions?
Speak with a member of our team today!
1 (877) 737-4362